Our Catering and pizzas
AUX MAINS COULEUR DE BLE
Alexandre BAILLOT & Coralie CAILLET
Artisanal Bakery & Pastry
Located near Auxerre, in Gurgy, Monéteau and Appoigny
Catering
We offer various products for something different, that you can eat in our shop or take away:

Gougères,

Salted breads,

Foccacia

,

Sandwiches,

Q

uiches,

Croque

-

Monsieur (ham & cheese toasted sandwich),
Friands (

sausage

pastry

, composed of

two pieces of

puff pastry,

welded together

by the edges

and

topped with

a

preparation)

,

Jelly eggs

,

Tartines (fancy bread covered with savoured spread),

Petits Fours (small confectionery or savoury appetizers),

Ham croissants,

Pizzas,

Cooked dishes...

Our pizzas
Each friday evening in Gurgy, we propose pizzas to go, until 8:00 pm!
We invite you to order at the following number: 06.86.53.12.11 (last order at 7:30 pm).
All of our various pizzas preparations are conducted by ourselves:
- Pizza dough with olive oil,
- Home made zucchini cream,
- Home made candied oignons and peppers,
- Chicken filets marinated and cooked by us,
- Cheeses from our cheese makers Sarah & Damien (Town market in Sens and in Joigny)
- Fresh vegetables...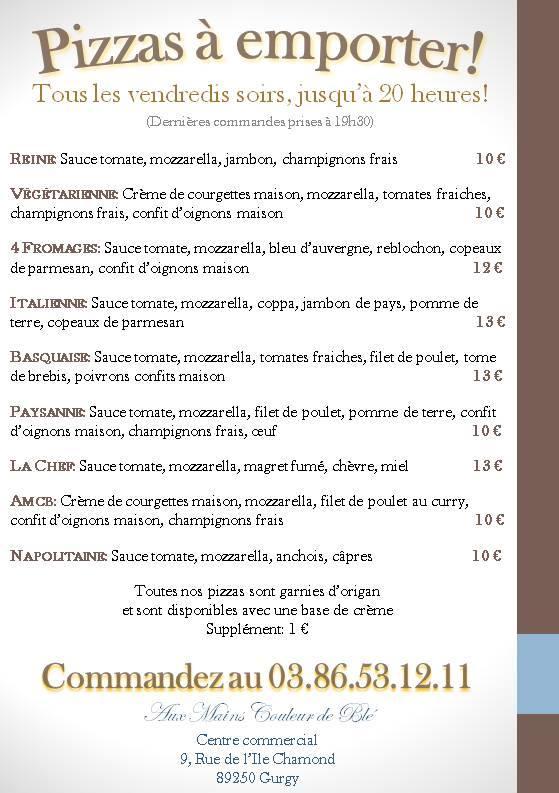 We draw your attention on the fact that in order to better serve you during the holiday season, we do not serve any pizza in December nor in January.
Last edited: 27/02/2021